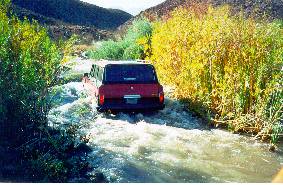 Here's Pete's Chero going through the only year-
round stream in Anza-Borrego desert.
Pete dove first, made a nice wake, bounced a couple of times on the rocks, and made it through no problem. I figured that there was nothing in his 3" lift that could give him any advantage (at this point), and seconded the motion. The shame is that nobody really bothered to take any pictures, so our photo archive on that trip is very scarce. The Bronco followed. Here, we were at the point I wasn't considering going past, and stopped for a quick tailgate lunch to make kids and puppy happy. Some time later, a very nice gentleman asked us to pull our rigs somewhat apart so he could drive is Pathfinder out. He admitted being quite thrilled by the creek crossing. Polite as we are, we said a couple compliments on how good Nissan four-bys are.