Living in Southern California poses some ultimate transportation challenges. Anyone who needs to move from point A to point B, especially if the path between these points crosses desert sands, rocky creek beds, steep inclines, or traffic in the City of Angels, is in dire need of full- or at least part-time four wheel drive, big tires, humongous engine and other heavy and expensive armor. Others just don't make it.
Here's my daily transportation, a 1979 Jeep Cherokee Chief. She came from the American Motors factory nicely outfitted with 360 c.i.d. V8 (gasping for breath through a two-barrel Motorcraft 2100 carburettor), a GM Turbo-Hydramatic TH-400 transmission (otherwise found on V12-powered Ferraris, Jaguars, and school buses), Borg-Warner 1339 transfer case (AKA Quadratrac), and stout Dana-44 axles kept under the jeep with big and heavy leaf springs. With the aid of this hardware I conquer the traffic in La Jolla, CA., year round, despite ten annual inches of precipitation, morning fog, and steady trickle of Honda Civics with trash can exhausts. Got this girl in a very pitiful state - engine barely idling, lifters clacking, half of smog equipment missing, transmission in dire need of tune-up, four-wheel drive inoperational, leaking all fluids that the owner would occasionally put in (including motor oil, transmission fluid, gear lube, coolant, gasoline), interior totally trashed, rear window stuck half-way up, A/C dead, etc. She proudly wore 235/75R15 whitewalls - looking like donuts on 15x8 "wagon wheel" steel rims, and resulting in some spooky handling.
Still, I consider this $1,500 purchase one of the best investments I ever made. The body was clean, re-painted in places but without any rust.

Read on: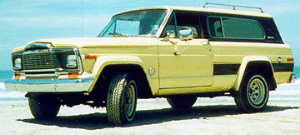 That's the Jeep - the way I got it. The picture's been taken at the kayak launching site at La Jolla Shores Beach.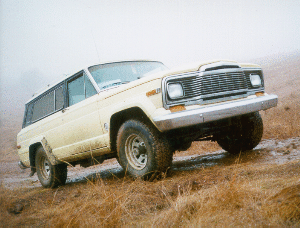 A month an half later. See these nice BF Goodrich 31x10.5R15 All Terrain tires? The picture was taken after the rain near Black Mountain in San Diego County, just a few minutes after I pulled out from mud and towed about a mile an F-250 (well, Jeep pulled and towed, I was just guiding her).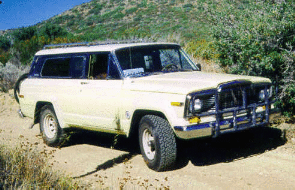 Two months later - got a factory brush guard, and plenty of things done under the hood and in the drivetrain.