Mike's been waiting for it for years. Ever since I started expanding my horizons in South-Western United States, he's been bugging me for a long road trip, and I've been promising him such. Every time he came to visit us, something would come up that would prevent us from going more than 2 days away from home. Finally, I gave in, and he flew over with my mom in tow.

&nbsp The trip was in my best traditions. Nothing planned in advance. No route known, no hotels booked, no itinerary to follow, no deadlines to beat. Even the general direction of this trip was determined by a coincidence - we could take Yuri back to his Berkeley dorm on our way.

&nbsp The original vague idea included travelling in style - aboard a 38-years old Jeep Wagoneer, never setting a tire on an Interstate highway, and sleeping in a rooftop tent. But... The jeep was dismissed for lack of adequate hearing protection, roof rack, and redundant brake system. The Range Rover (95 LWB Classic) wouldn't go into low range, and would wander around the highway more than I'd be comfortable with. My wife's AWD Volvo wagon was deemed too girly a coach, despite us having no plans of going off pavement. So... The official ladies' vehicle in the family, 1996 Land Rover Discovery, was chosen the evening before the trip. Besides, I've just done an unusual (for me) amount of maintenance work on her, including bolting up steel wheels wrapped with BF Goodrich All-Terrain tires.

&nbsp ... And we just set out early Sunday morning North along Interstate 5.

&nbsp The initial jolt of travel adrenaline ran out by the time we hit Lost Hills near the Southern end of San Joaquin Valley, so we split off to the West - towards the coast. 80 miles (and decent lunch in Paso Robles on U.S.101) later, the viewfinders of our hungry for Kodak moments cameras filled with gray mist of Pacific.

&nbsp Something must be said here about the weather. As we rolled out, a strong Pacific storm hit the West Coast, pouring rain and blowing heavy winds in the coastal areas, and turning to snow at higher elevations. We've been running away from this storm for the most of this trip, and it's always been quick to catch up with us as we stopped or merely slowed down. Very few of our photos bear traces of unobstructed sunlight; the most beautiful road in California, Pacific Coast highway, gains a lot of character as far as driving goes, but loses miserably in its postcard quality.

&nbsp Our favorite coffee shop (the Rotunda in La Bruschetta restaurant) in Carmel by the Sea was closed for beetween-lunch-and-dinner break, and the rain just picked up.

&nbsp Yuri took the helm in Carmel, and navigated through the downpour all the way to San Francisco. A moderately-upscale dinner on Embarcadero, and a miserable motel in Berkeley, lightened up my wallet somewhat; relentless rain left us no choice in the morning but head for the mountains.

&nbsp Day Two

&nbsp After an intricate dance of finding our way around the engineering marvel of I-80/580/880 etc. interchange, we settled on Eastward course along Interstate 80. Did I mention rain? It never let off, ranging from the fine mist to torrents of biblical proportions. Eventually, it gave way to light wet snow at higher elevations; we ran ahead of the storm and saw our first glipmse of sunlight in Truckee, California. Highway 89 wound its way South to Lake Tahoe. Our progress was halted at Lake Tahoe right before Emerald Bay - not that we haven't been warned, but... little hope remained that CHP only tried to dissuade the most weak-hearted, until we saw the locked gate, and a flock of Asian tourists curious about how to get to town of South Lake Tahoe, just a stone's throw away. They seemed to be a bit disappointed by having to drive all around the lake...

&nbsp By the time we've traded Golden State for a Silver one, the weather front already covered the Western shores we'd just left, engulfing the mountains and water in dense dark nasty-looking clouds. The hopes of a little nature walk around the lake vanished, and we hopped across the mountain ridge over to Carson City, NV, and South on U.S.395 - just in time for the rush hour.

&nbsp I can only imagine how bad people of Carson City feel about their traffic jams - but, honestly, it was hardly worse than a typical entrance to any Southern California shopping mall!
&nbsp South along 395, back to California, we were almost alone on the road. Mono Lake, usually so spectacular with its turquoise water in the midst of high desert, looked dull gray. In our southerly trek, we've lost ground to the weather front, and snow closed in as we drove up to Mammoth Lakes. By the way - ever had a seafood dinner in the mountains? Don't do it.

&nbsp Day Three

&nbsp Woke up to discover the Discovery under almost a foot of snow. A few people have been getting their morning Mammoth workout - digging out to get to the slopes. Surprisingly, Hwy.203 was open all the way to the top lodge - which I would've enjoyed greatly were I going to ski. The only hopes for local entertainment were with the hot springs South-East of Mammoth - no dice. Just like the last April, the road was snowed in and closed. The prospective of getting thoroughly wet by walking the remaining two miles didn't appeal to us; the skies were promising more precipitation. It was beginning to look like we were going to be confined inside the vehicle for the rest of the trip... Not good. But - it was California, land where one can find anything he or she wishes. Death Valley isn't particularly known for its wet climate (it does get some rainstorms, however); so we split off to North Death Valley Road near Lone Pine, CA. A sign proclaiming "no services for the next 126 miles" was very reassuring; it wasn't quite a surprise, for I've driven along this road in the past. Being seasoned travellers, we've got extra 4 gallons of gas in jerry can, a bottle of Pinot Noir, and a few gas station sandwiches. I had a fleeting thought that it would not be too prudent to head into the desert with about half a gallon of water (including Pinot), but brushed it aside.

&nbsp The road to the Northern end of the Death Valley is a great prelude to the desert. It is spectacular, in a desert sense - it does show some geological features, and a variety of biology found between 8 thousand feet above and 200 feet below sea level; there are some remnants of past mining activity; but, what instills a certain mood in you is that you rarely see another vehicle. In fact, during two trips and 90 miles along this gravel road, I've seen four vehicles (two of them - campers in Eureka valley). Cellular phones don't work, and there isn't anyone to wake up on the CB. There is an eerie quietness in the air, only permeated by the light howling of the wind.

&nbsp It does bring great respect to those who'd travelled this path without the benefit of having fully-stocked gas stations at both ends of this road - or air conditioning, or heater, or even sunglasses!

&nbsp The pavement ends at the edge of Eureka Valley. From this point on, there are about 35 cruel washboard miles to the nearest paved road; our plan included a detour to Eureka Dunes - the tallest dunes in North America (8.5 miles of washboard one way). I guess some sophisticated folks having travelled through Sahara would yawn at our local mound of sand; but I haven't regretted this trip for a second. The size of the dunes cannot be gauged without having climbed one - just to discover that there are more behind it, wider and taller by far! A couple of campers at the bottom of the dune warned us about wearing the sunglasses - near the top, the 40-mph storm wind was blasting sand off the crease of the dune. Sunglasses, my... One had to wear a snorkelling mask to keep the sand out of one's eyes!

&nbsp Few Kodak moments later, we were on our way to Death Valley proper. Stopped by some abandoned mining site, had a quick gourmet lunch of gas station sandwiches washed down by Pinot. The camping couple in a Chevy pickup honked as they drove by. Nobody left behind us...
&nbsp We descended into the Death Valley and stopped to take a few photos of the "memorial" at Crankshaft Crossing (these guys in the past knew to create romantic names!). Check your vision - name and count all engine parts in the photo!

&nbsp Few miles down the road we've caught up with the couple in the pickup. The washboard must have taken its toll - apparently, engine oil cooler lines broke, and oil pressure was lost (you just have to give this road something - last time for us, it was some Range Rover brake parts, this time - a nice 3/4" Warn shackle). We decided to tow the disabled truck all the way to Ranger Station, rather then try to summon help all the way to the end of the Valley. I have to say that, at 30mph, a 30-ft tow strap doesn't look all that long!

&nbsp By the time we've dropped the campers at the Ranger Station and reached Scotty's Castle, I was too beat up to do anything but air up the tires. We've had little time remaining to sunset, and were hoping to crash in Las Vegas - still far away. It seemed like there was no reason to cut to U.S. 95 from Scotty's Castle - so we went back into Death Valley, towards Furnace Creek. For this, we have been rewarded with a spectacular sunset at Zabriskie Point - with sun shining through a narrow opening between Panamint Range and low dark clouds, enhancing the patchwork of brown, yellow, black, and red coloring up the hillsides. As the sun set, rain closed in again. We've followed Hwy.190 to Death Valley Junction, then took some county road to Pahrump, NV, and Hwy. 127 to Sin City.

&nbsp After this day, I was hoping for a really nice hotel, with sauna, indoor pool, etc. - guess what? We've happened to hit Las Vegas in the midst of the Spring break. There's a number of things I fail to understand - and near the top of the list is "why on the Earth would the parents bring their children to Vegas for vacation?" Make long story short, by the time we could've reached St.George, UT, if we drove up Interstate 15, we've found a single available motel room. Let the motel remain unnamed here - just say the airport roared behind it, and pink letters "Mandalay Bay" shone through the patchwork of broken glass panes. The carpet looked like someone was tortured and killed there. We were too tired to flip on the TV - I did this in the morning (with a remote control requiring a $10 cash collateral): the first channel that the TV set responded to quickly enlightened me in a multitude of ways women entertain themselves when men go to war or hunt. Price-wise, this motel rivalled its Berkeley brother. The highlight of the evening - a dinner at Hooters. Girls were very nice, beer and hamburgers - warm.

&nbsp People who know all about $50 romantic getaways in Tropicana (with shows and dinner included) - please enlighten me!!! Otherwise, I'll never again break my rule not to slow down for this city.

&nbsp Sometime during this day, it became rather obvious that we wouldn't reach Moab, Utah, or San Juan Mountains in Colorado... Maybe five-day trips do need some planning, after all...

&nbsp Day Four

&nbsp From a double-pass of Strip the night before, I knew there was a Starbucks nearby. Didn't find it. The Strip thinned out into some sketchy neighborhoods of North Las Vegas, and we hopped back on I-15 towards the North. Hopped back soon, however, for fuel and breakfast to a Pilot truck stop. I felt a slight tinge of coolant smell at the highway exit ramp - hoped it was someone else. No dice - at the gas station, the smell materialized into a quickly-growing puddle of green stuff under the Land Rover. A quick inspection revealed a thin piss of coolant right from the side of relatively new lower radiator hose - and the stale thought of going to the desert with little water came back into my mind. Should this have happened in Death Valley, we would not have had discovered it until... Screw it, it happened where it was to happen. Well, there was little I could do short of letting it cool off; we've had our gas station breakfast and coffee (both - not too bad!), and Behr at Sport Utility Motorcars in San Diego warned me to be generous with duct tape, for the hose could've split. A sleeping mat was rolled out on asphalt, duct tape, hose clamp, and zip ties procured, and leak quickly fixed. I decided to pay my dues to the supreme being that has the reins of my luck, and paid $74 to Land Rover of Las Vegas for the replacement hose (still not sure if it's the right part). And yeah, got two gallons of coolant, just in case I'd have to replace the hose in the vast expanse of nothing. The McGuyver episode cost us a couple of hours; seeing a long day ahead, we abandoned our principles and booked our next sleeping pad in advance - it would be Best Western in Page, Arizona.

&nbsp Mike took the tiller from there on, and braved the winding highway grades through the 30-mile Arizona stretch of Interstate 15. I forgot to tell him that a lifted Land Rover with little caster left in front suspension is a handful - so he's enjoyed it along with some stiff and gusty side wind. In St.George, Utah, we turned East on the road leading to Zion National Park.

&nbsp I could only guess how beautiful Zion might turn out should the weather have been any better; this time, it was cold, gloomy, with a sprinkle of rain here and there. Fortunately for us, private vehicles were already banned on the main road, so we could enjoy the ride in the bus. A little Yosemite, decorated with a few shades of red... We were told that between 8 and 9 hundred thousand people visit this park every year - what do they do there, and where do they all fit?

&nbsp We followed East on Utah highway 9, a winding road carved in the mountainsides, and hit U.S. 89 in the high desert. Storm caught on again, leaving the white snow marks on the reddish rocks and occasional buffalo.

&nbsp Late in the evening, we embraced the warm confines of Best Western in Page, Arizona. It was by far the best lodging, and the dinner at Ken's Old West was by far the best meal we've had on the whole trip. A trip to Lake Powell is definitely on my list.

&nbsp Day Five

&nbsp That turned out the longest day of all trip, both in time and ground covered. The morning was sunny and beautiful - the storm was gone, on its nasty way to Midwest.

&nbsp We took an hour or so to walk near Glen Canyon Dam (which keeps greenish waters of Colorado River spreading into the shape of Lake Powell), and went on to Mike's new attraction: Cottonwood Canyon Road. This 48.5-mile-long dirt road on BLM lands, Grand Staircase - Escalante National Monument, is a shortcut from the U.S. 89 in Lake Powell area to Utah highway 12 near Bryce Canyon. In absence of slickrock trails of Moab in near future, we'd take a dirt road over highway anytime. Travelling through winter storm in the Eastern Sierra Nevada hasn't taught us to heed the official warnings, so the sign at the trailhead saying "Impassable when wet" was promptly ignored.

&nbsp After the first mile or two, I let some air out of the tires; the dirt, dry at the entrance, showed signs of some moisture and tended to stick to the shoes. We hammered on; the scenery was comprised of grayish-brown hills with occasional red or black streak. A swollen creek meandered by; everything indicated that the last night's storm didn't miss the area. The road became more slippery, and I found myself wide awake sawing back and forth at the steering wheel after each sharp bend. The road was now carved into the hillsides - pretty slick already, and off-camber everywhere. It took increasingly more effort to keep the tail end planted. The left side of the road dropped off into the creek, with occasional wide washouts eating into the roadbed. We kept going, encouraged by seeing recent (clearly, highway) tire tracks in the dirt.

&nbsp Finally, at the mile 18, a Jeep Grand Cherokee appeared, with left rear tire planted in one of these nasty washouts, left front mired in clay, and right tires keeping it from leaving the road altogether. Nobody was around, so we didn't attempt to pull the jeep by ourselves. I didn't see any footprints around, either. Some odd-looking tire tracks continued - narrow highway tires, but spaced at some generous track width. Hmmm...

&nbsp Three miles later, in the middle of a particularly wet and nasty spot, we've found people. A young american couple on their honeymoon have already spent a night in a 4WD Volkswagen Vanagon camper stuck in this spot, along with a French couple they've adopted along the road after leaving their stuck Grand Cherokee. I could only imagine what did this road feel like during the rainstorm; it was nasty enough a few dry hours later. The dirt was this infamous clay - the wet layer was only a couple of inches deep, but it was enough to wrap around the tires, stick to your shoes should you have ventured outside the vehicle, and make everyone's life miserable. Our tires, having performed admirably in snow and sand, now looked twice their normal width. Wheelwells were quickly filling up with clay; everything that came in contact with clay took some with it.

&nbsp We've examined the situation - it looked possible to pull the van from the back so we could get around, and maybe try pulling the van through the mudhole. Surprisingly, it didn't take very long to accomplish; we decided to split the load of people between the van and Land Rover, and tag along all the way to blacktop.

&nbsp Most of the remaining 27 dirt miles went in silence - it sank into everyone's mind how quickly one easy mistake could turn into ugly ordeal. The road was progressively wetter and slicker up to mile 37 or so, and bore the tracks of some other people who failed to make it through in Southbound direction. These ruts were a real blessing for me - without them, I am not sure if I could've kept the Land Rover away from the drop-offs in narrow, slick, and off-camber switchbacks with significant downslope. This road also made me mindful of the usually-unintrusive rear TruTrac limited slip - open differentials would've made my life easier.

&nbsp Finally, we made it to asphalt around 1:30 in the afternoon. Stopped by the local BLM office, and Patricia (of the american couple) went out of her way to do anything remotely possible to get the French to their stuck vehicle and get the jeep out. She hasn't left a detail out, including providing her own AAA card in order to save the French guys some money in towing bill, and calling around for towing companies for the best deal and logistical arrangement. The BLM officer on duty was very helpful as well. This is not just hospitality; this goes way beyond that. My hat's off to you, guys!

&nbsp We parted ways in Cannonville, UT, and headed towards Bryce Canyon. Of all Western states, I believe Utah can boast the largest variety of rock formations. I thought I'd seen them all then, having driven through Monument Valley and Moab, and visited Arches National Park. To my amazement, Bryce hasn't failed to blow our minds off. The eroded rock columns, so prominent in Arches National Park as "Three Judges," are Bryce's staple. There must be hundreds of these silent statues at the bottom of Bryce's Amphitheater. The skies finally cleared up, bringing out the best from the Red Rock country. Too bad I was too beat up by then to hike around the Park; we took in all the views we could, used up all real estate on our cameras' flash memory, and went on South along U.S. 89 and then East on Utah Hwy.14, through Dixie National Forest. The evening graced us with spectacular views of Utah's valleys from 9910-ft summit, with sun filtering through a narrow opening between the clouds and mountain ridges. By 7 p.m., we rolled into Cedar City. A quick bite at a roadside Subway later, we were on our way South on Interstate 15, towards San Diego. Mapquest's distance and time estimates were dead-on: 500 miles, and 7 hours... Mike fought the swaying Rover until Barstow, California, and reluctantly let go of the wheel when the truck ran out of gas. The trip had ended in front of our garage, and we sleepwalked into our beds, leaving dirt-encrusted Land Rover outside.

&nbsp This trip didn't happen the way I saw it months ago - but fate led us to the places we could have never seen otherwise; we met some good people, and were given a chance to lend a hand to those in need. The Land Rover never let us down, despite all the abuse dished on it. In flattering words of Patricia, "If we were to be rescued by a vehicle, it had to be a Land Rover!"
&nbsp
Trip statistics:
Mileage - 2348, of those - approx. 105 off pavement
Gas bill - $478
Average fuel consumption - 13.2mpg, or 18.1 liters/100km
Hotel bill - $341 (4 nights)
Broken and lost parts - $74 for lower radiator hose, and $10 for 3/4" shackle
Highest elevation - 9910 ft (3020m) above sea level, on Hwy.14 in Utah
Lowest elevation - 190ft (58m) below sea level, in Furnace Creek, California
States visited - California, Arizona, Nevada, Utah
Best lodging - Best Western in Page, AZ
Best food - Ken's Old West Restaurant in Page, AZ
Best wine - "Justification" from Justin Vineyards in Paso Robles, CA ($43)


Utah graced us with a beautiful parting sunset.


&nbsp

&nbsp Our vehicle:
1996 Land Rover Discovery, 172,500 miles before the trip, 4.0V8, 4-speed ZF 4HP22 automatic, gear-driven LT230 transfer case.
Mostly stock, with 2" of lift provided by OME HD springs, solid steel drag link and tie rod, relocated steering damper, differential protectors, SafariGard rock rails, and rear Detroit TruTrac.
Wheels and tires - Unique 15x7 steel wheels, 30x9.5R15 BF Goodrich All-Terrain tires.
Communications - Uniden SSB-capable CB unit with rear-mounted 2' Firestik antenna.
Minimum set of recovery equipment and spare parts - Jate rings in front, hitch receiver - mounted Warn 3/4" shackle, 30'x2" nylon tow strap, 1-ton come-along, shovel, 20' 1/0 gauge jumper cables, first aid kit, fire extinguisher, tire repair kit, spare ECU, rotoflex joint, and rear trailing arm, and 40 lbs of assorted tools.



&nbsp Interstate 80 between Sacramento and Truckee, CA



&nbsp Lake Tahoe - Emerald Bay



&nbsp Highway 89 closed at Emerald Bay



&nbsp Eastern shore of Lake Tahoe - rain and fog



&nbsp Mono Lake



&nbsp The storm dumped about a foot of fresh snow overnight at Mammoth Lakes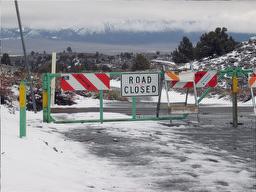 &nbsp The road to hot springs closed...



&nbsp The road back to U.S.395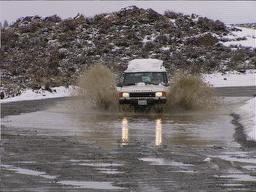 &nbsp Can we have a little fun, at least?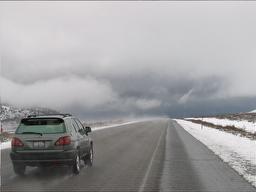 On U.S.395, we saw something weird - steam coming off pavement.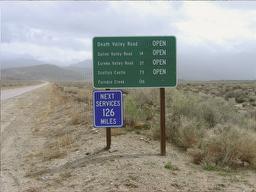 &nbsp Do we have all we need?



&nbsp North Death Valley Road



&nbsp the Land Rover at the bottom of Eureka Dunes



&nbsp Near the top of the dune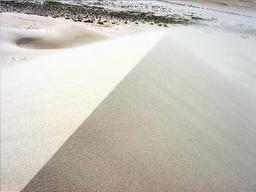 &nbsp The crest of the dune is amazingly sharp!



&nbsp Good study of aerodynamics, with all that wind!



&nbsp Near abandoned mine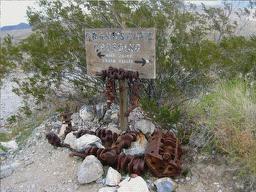 &nbsp Crankshaft Crossing - count all engine parts on the photo!



&nbsp Occasional sunlight pitches the earth of Death Valley against the lead backdrop of the storm clouds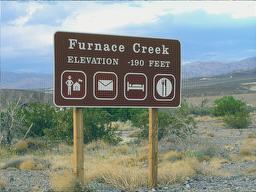 &nbsp That would be the lowest (physically) point of our trip!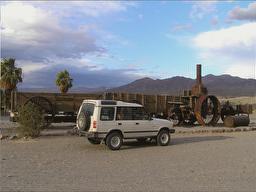 &nbsp Old and new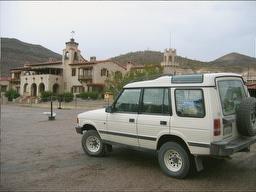 &nbsp Scotty's Castle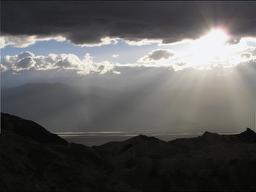 &nbsp Stormy sunset at Zabriskie Point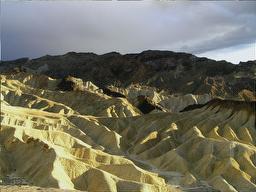 &nbsp


&nbsp Parting shot of badlands near Zabriskie Point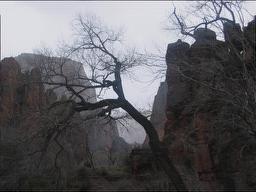 &nbsp Zion National Park brought up a mood of German romantic painters of the 18th century...



&nbsp Waterfalls just like in Yosemite... just smaller...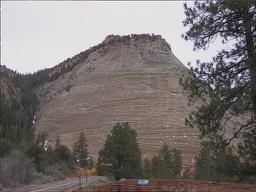 &nbsp Checkerboard Mesa



&nbsp Are we in the West, finally? Yes!



&nbsp Buffalo Patriarch



&nbsp Glen Canyon Dam in Page, Arizona



&nbsp Grand Staircase - Escalante National Monument



&nbsp You've been warned!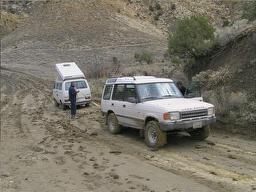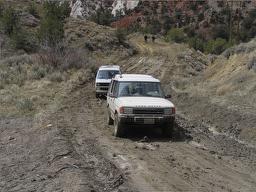 &nbsp Back... around... and through!



&nbsp Shouldn't have made fun of shovel holders...



&nbsp Oops... Tail a bit too happy!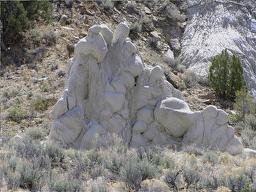 &nbsp Gaudi or Rodin?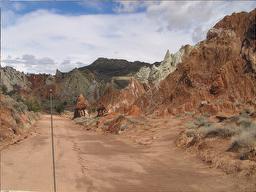 &nbsp Gaudi...



&nbsp Ruts will set you free!



Bryce Canyon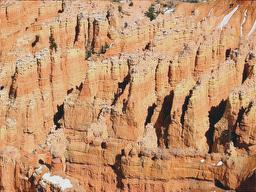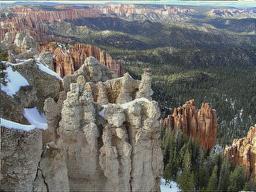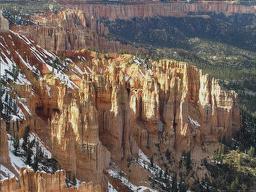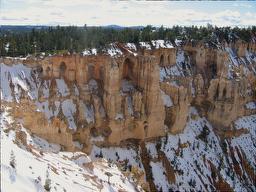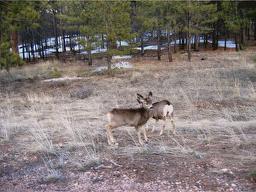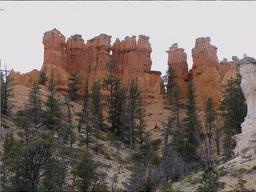 &nbsp The beauty of the Red Rock country continues beyond the boundaries of Bryce Canyon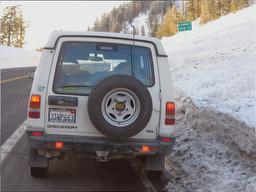 &nbsp Highest (physically) point of our trip - Hwy.14 in Utah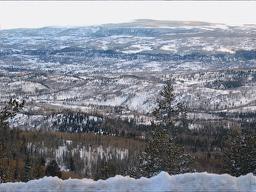 &nbsp The views of the valley below the ridge are spectacular